A wealth of services
Creation of green spaces, plant transplanting, gardening, watering, earthworks, riprap, landscape masonry and road and utilities systems, fountains, lighting, garden maintenance and upkeep.
These are just some of the services we offer to create and maintain parks and gardens of all sizes.
ATRIUM PAYSAGE looks after a park or garden from start to finish, from its creation to its upkeep.
Bespoke, high-performance equipment
Our full range of high-performance equipment is suited to all our services, enabling us to work more efficiently and to the highest standards. There is enough equipment to carry out all our work.
Site supplies are provided by 9 heavy goods vehicles, ranging from 12 to 32 tons, equipped with cranes.
The equipment fleet is mainly made up of the following: Bobcat, Dumpers from 2 to 9 tons, 25 excavators from 1 to 19 tons, 43 site vehicles (vans, 3T5, watering vans, etc.), 65 site machines, 2 Mecalac 10-tonners + 12 passenger vehicles for supervisory staff, 12 trailers (single, double axles, van), loaders, motorised wheelbarrows, screening machines, compactors, mixers, motor cultivators, tractors, gondolas and surveying equipment needed to set up and carry out projects.
Electrics - an eco-friendly choice
The ATRIUM teams have been using Pellenc electrical equipment for 7 years and regularly update it.
Our decision to go electric is in line with our service and environmental policy for the following reasons:
– no noise pollution
– no odour nuisance
– clean equipment (zero carbon footprint, total elimination of CO2 emissions)
– ease of use for our teams (instant start-up, ultra-light, ergonomic, reduced vibrations)
Learn more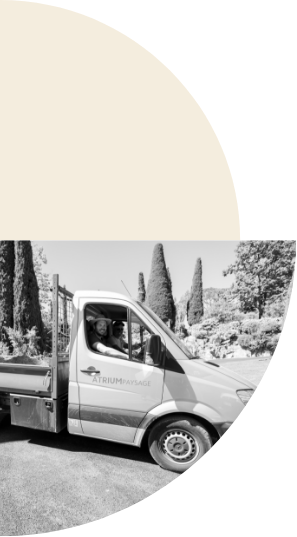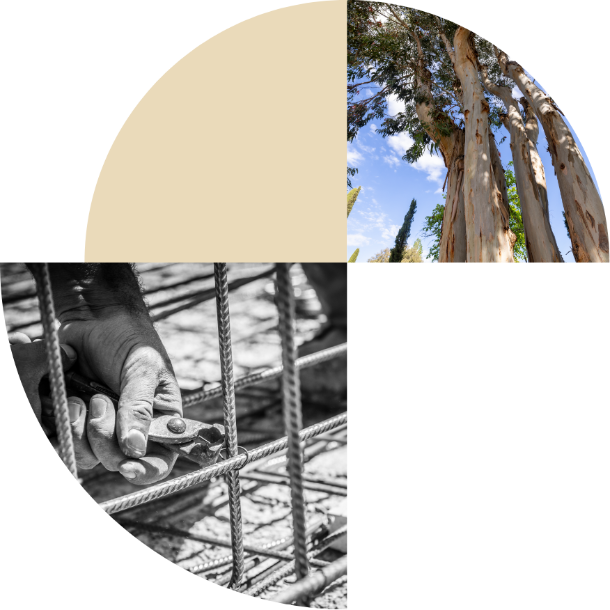 Essential technical skills
ATRIUM Paysage attaches great importance to developing the technical skills of its teams — a guarantee of the quality of our services. This specific approach and the dedication of our staff in this respect are an asset for ATRIUM's customers.
Our expertise in project management perfectly reflects this. Supporting customers and landscape architects right from the early stages of the project, from the design phase onwards, is an added bonus that optimises the technical feasibility and long-term sustainability of the projects.
An efficient work process
The landscape architects submit a consultation document to ATRIUM Paysage 's design office. The office team reviews the project and makes technical and costed recommendations for its execution.
Once approved by the customer, the document is sent to the works supervisor, who will start the project. The works supervisor is responsible for monitoring and ensuring the proper execution of the work, and acts as liaison between the various parties involved in the project. In the field, site supervisors and team leaders take over.
Garden design and layout
Our multi-disciplinary teams can create all types of green spaces: from potted plants to unusual species, landscape masonry, and a wide range of lawns, from classic to tropical (fescue, dichondra, zoysia, kikuyu grass, etc.), seedlings or turf slabs. Thanks to their in-depth knowledge of the plant world and their technical expertise, they can assist you with all your projects.